ALL MILITARY, FIRST RESPONDERS, AND TEACHERS RECEIVE A 10% DISCOUNT.
Whether in front of your home, your business, or on the corner of a busy intersection, yard signs can be a great way to spread your message to a wide audience. Lightweight and easy to place, yard signs are a great way to easily inform, educate, announce, or market any number of things.
At Broken Arrow Graphics & Banners, we specialize in both metal and coroplast signs, ensuring that meet your needs. Clients contact us to make custom yard signs to serve both long term needs and advertise short term events such. From real estate signs to birth announcements and everything in between, we can create a yard sign that exceeded your expectations.
While some companies may overlook the importance of quality when it comes to yard signs, we approach these smaller signs in the same way we would approach a large billboard banner. With attention to even the smallest detail, you can be confident that your yard sign will both attract attention and accurately portray your message.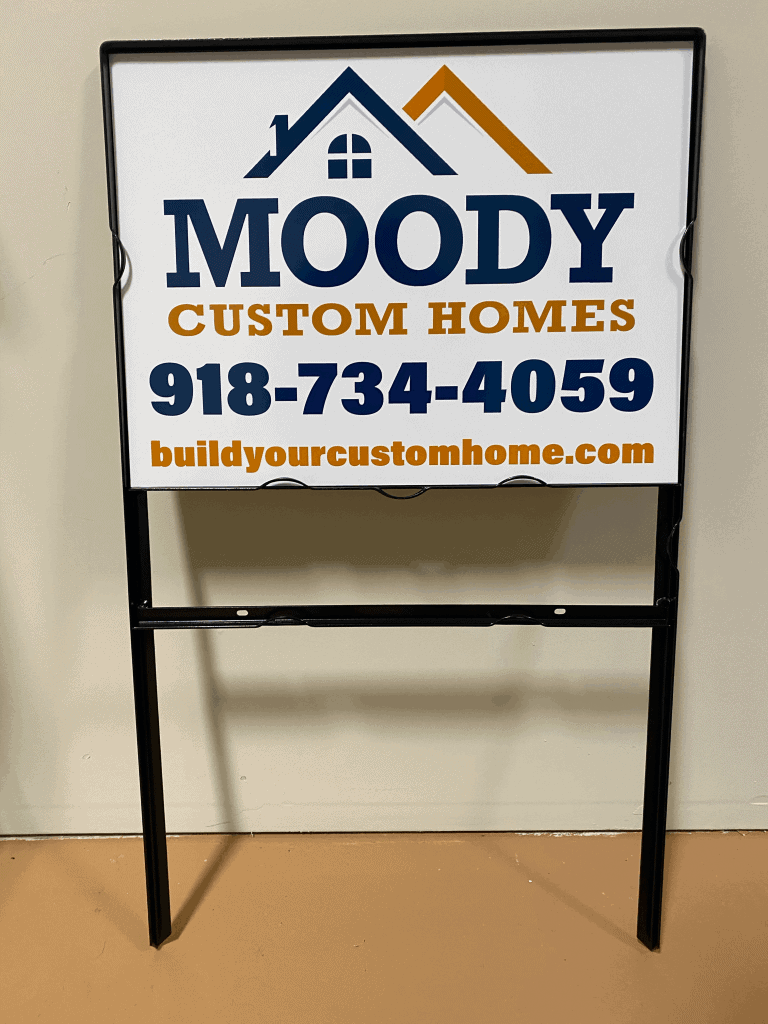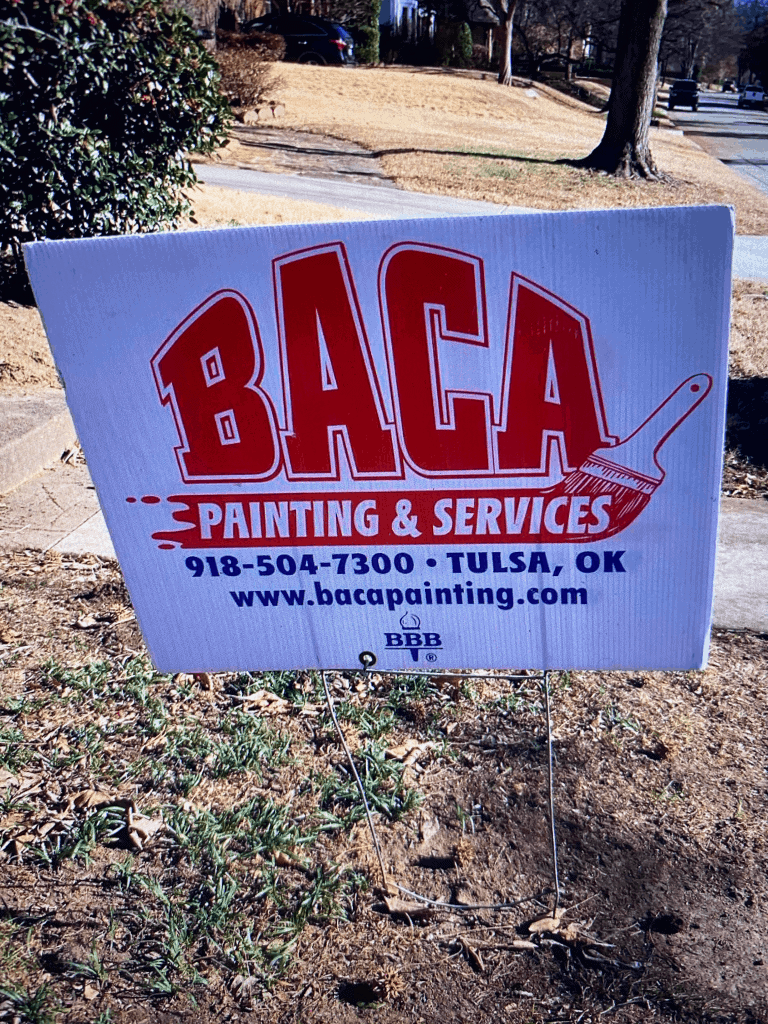 METAL YARD SIGNS VS. COROPLAST YARD SIGNS
Our number one priority at Broken Arrow Graphics & Banners is to supply each client with a product that meets their needs and exceeds their expectations. To do so, we offer two types of yard signs, metal and coroplast.
Metal yard signs are often preferred for more long term use as this material provides great durability. Metal yard signs are less likely to be affected by the weather and are less prone to fading caused by the sun if left outside for long periods. However, metal signs do have a few disadvantages.
We often recommend metal yard signs for clients who are going to be using a yard sign time after time, without the need to transport it frequently. Metal signs are undoubtedly heavier than their coroplast counterparts. Additionally, they are slightly more expensive than other alternatives.
Coroplast yard signs are the perfect option for clients who are going to display their signs on a more short-term basis. Easy to transport, install, and ship, we offer coroplast yard signs in a variety of options. Depending on your needs, we can provide you with vinyl coroplast yard signs, or coroplast yard signs that are directly printed.
Our goal with any of our custom yard signs is to create a product that accurately portrays your message and serves your needs.
CUSTOM YARD SIGNS FOR ANY OCCASION
We have made custom yard signs for a wide range of occasions and events including:
Corporate Events

Weddings
Real Estate
Announcements
Marketing
Special Events
Fundraisers
And Much More!
No matter your occasion, we will work with you to bring your vision to life. We take great pride in including you in each step of the design process. From consultation to design proofs, and finally, to production, we strive to provide impeccable communication during each step.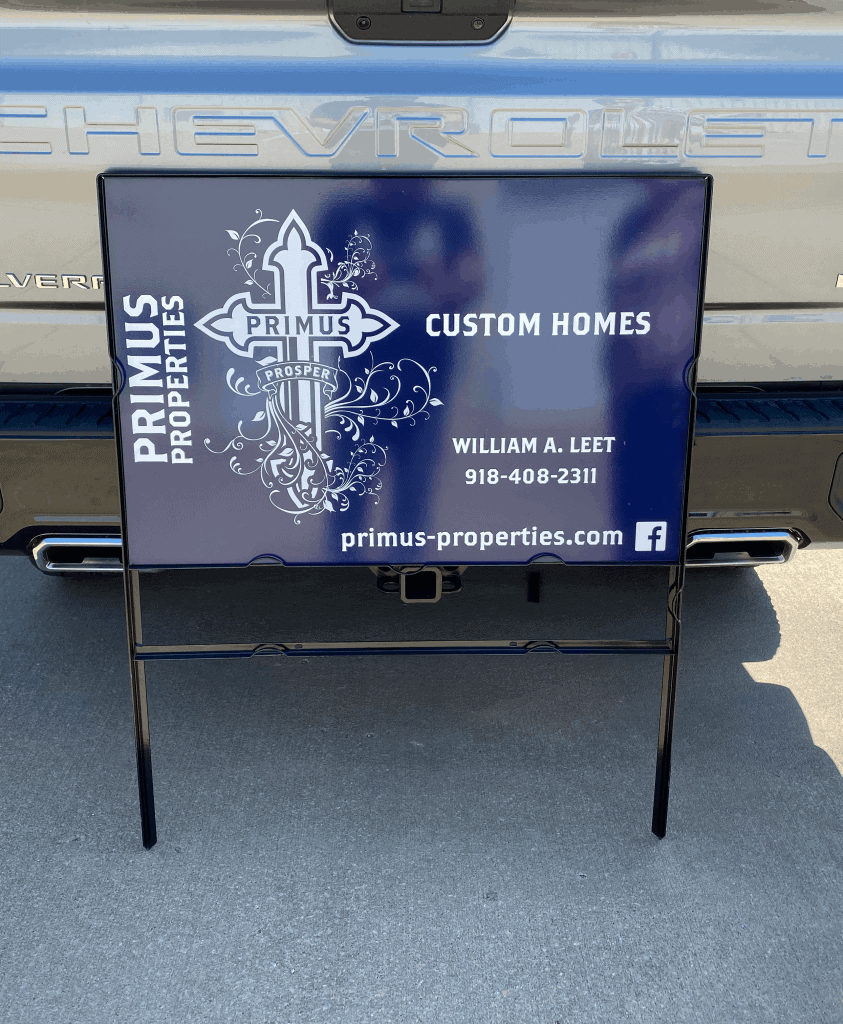 At Broken Arrow Graphics & Banners, we truly believe that our clients are our business. Whether you are looking for something as large as a billboard size banner, or something as small as a custom-printed mask, we are ready to create a product that you can be proud of.

If you have a printing project in mind that you do not see listed on our website, please let us know! We can print virtually anything and we are always working to meet the needs of our clients. We would love the opportunity to discuss your printing needs.