Owasso Yard Signs
Yard signs are an excellent way to market your message to a large group of people. They are easy to place and lightweight, so they can be placed almost anywhere while still efficiently informing, educating, or announcing things. Owasso yard signs are a type of signage specifically made for Owasso, Oklahoma. Owasso yard signs focus on promoting local businesses and events, as well as passing along information about community issues.  Owasso yard signs are also a popular option for political campaigns because of their affordability and easy portability.
We never overlook the importance of quality not even for something as small as an Owasso yard sign. We approach these smaller signs with the same level of detail and care that we would approach a large billboard banner. By paying attention to even the smallest details, you can be confident that your Owasso yard sign will attract attention and accurately portray your message.
Define Owasso Yard Signs
Yard signs are small, street-facing advertising signs that property owners use to express support for an election candidate or political idea. Owasso yard signs come in various sizes and shapes and can be made from corrugated plastic, aluminum, and other materials. They are popular in the United States and Canada.
Broken Arrow Graphics & Banners specializes in both metal and coroplast signs to better serve our customers. Whether you need a custom yard sign for a short-term event or a long-term project, we can create one that meets and exceeds your expectations. We have experience making all kinds of Signs, from real estate to birth announcements and everything in between.
Owasso yard signs are great for any occasion, so don't hesitate to contact us today if you need help creating the perfect Owasso sign. Let us show you why Owasso yard signs from Broken Arrow Graphics & Banners will make your project stand out!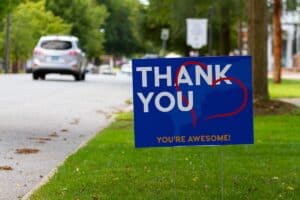 Why Are Owasso Yard Signs Needed?
We take pride in providing Owasso with high-quality, durable yard signs to promote their business or announce an event. Owasso yard signs are durable and long lasting, making them a reliable form of advertising that will last for months or years depending on the material used.  Owasso yard signs are perfect for local and political campaigns, as well as any other business or event that needs to get the word out.  Owasso yard signs can be used to inform the public about community events, promote a business, or even announce a sale!
We understand that Owasso is filled with businesses of all sizes, and that's why we offer custom Owasso yard signs to fit all of your needs. Whether you need a large or small Owasso yard sign, we can create one that meets your exact specifications. Get in touch with us today if you're interested in Owasso yard signs!
 Now that you know all about Owasso yard signs, it's time to start designing yours! Broken Arrow Graphics & Banners are here to help you create the perfect Owasso sign that will get your message out and attract attention. Contact us today for any questions or to get started on your Owasso yard sign project.