Owasso Vehicle Wraps
Broken Arrow Graphics & Banners vehicle wraps provide amazing custom graphics for your vehicle. These wraps are designed to be an eye-catching way to get the message out about your business, while also protecting the underlying paintwork on your vehicle. Our vehicle wraps use high-quality vinyl material with a unique adhesive that allows it to securely adhere to any make and model of car, truck, or SUV. This material is designed to be durable and withstand the elements while maintaining its vibrant colors for years.
When you use Broken Arrow Graphics & Banners, they use a professional installation team to ensure your wrap looks great after it's installed. With us, you can choose from a variety of designs including full-color images and logos, as well as metallic and chrome finishes. The Broken Arrow Graphics & Banners team is also able to customize a wrap with any artwork or text you desire, making it easy to create the perfect look for your vehicle. With Broken Arrow Graphics & Banners, you can be sure that your car will look great for years to come.
What Are The Details For Owasso Vehicle Wraps?
Vehicle wraps, including vehicle wraps for the Owasso area, are large vinyl decals that can be applied to all or some of the painted surfaces of your car. The wrap changes the color and looks of your vehicles rapidly, thereby providing an opening for vibrant, unique, and noticeable branding. It should be noted that the finish can either be gloss or matte. 100% removability is yet another appealing feature for leased or owned cars.
With Broken Arrow Graphics & Banners car wraps, you can use your fleet of vehicles as marketing tools. We can help save on costs by wrapping only a portion of each car (like side-door graphics) or we can do full car wraps that cover the entire painted surface. The colors and designs are limited only to your imagination.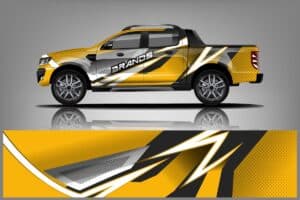 Why Use Broken Arrow Graphics & Banners for Vehicle Wraps in Owasso?
We go above and beyond for all of our clients at Broken Arrow Graphics & Banners, and our vehicle wrapping services are no different from the rest of our printing services in terms of the design process. After we hear your vision for your car wrap and why you want one, we will look through our 20,000+ templates to find the perfect design that meets all of your criteria. Sometimes vehicle wraps are used for marketing a business while other times people just want a fun design.
Once we have come to an understanding of the design you need, we will send you an official quote along with a contract. Once we receive your confirmation, our team of designers will begin working on a proof of concept for your project. Broken Arrow Graphics & Banners are important because they provide a unique way to make sure your business stands out. Vehicle wraps are also incredibly efficient, as they can be installed quickly and easily without having to worry about the underlying paintwork being damaged.  Vehicle wraps allow you to save money on advertising while still making an impact with your branding in the Owasso area.
Broken Arrow Graphics & Banners wants you to be happy with your decision to invest in a custom vehicle wrap, so we send you digital proof of the design once it's complete. You can look it over and request any adjustments that need to be made to your new Owasso vehicle wrap. Once the final design proof is approved by you, we move on to production. Our team communicates with you throughout every step of the process because your satisfaction is our number one priority.