Owasso Custom Vehicle Wrap
Many individuals spend the bulk of their time driving around town; this is more than we'd care to This is simply one approach to do it, but you might think of other methods. Consider how attractive your business would look when driven around in a distinctive Owasso custom vehicle wrap. An automobile wrap is an excellent technique to attract attention while delivering your message across town.
With over 20,000 templates available, Broken Arrow Graphics & Banners can create custom vehicle wraps for your corporate fleet of vehicles, personal vehicles, motorhomes, tractor-trailers, sports utility vehicles, and more! As with all of our products and services, we are careful to only use the very best materials.
For our custom Owasso custom vehicle wraps, we rely on 3M Vinyl, the best vinyl in the industry. Using the best products allows us to provide you with vibrant, high-quality vehicle wraps for any size vehicle. With a custom vehicle wrap, you can transform the look of your vehicle for a fraction of the cost, all while advertising your business!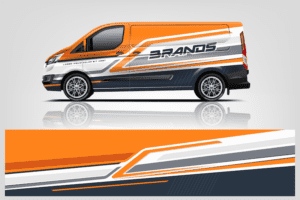 What Is A Owasso Custom Vehicle Wrap?
Owasso custom vehicle wraps are a large vinyl graphic or decal that is applied directly over the original paint of the vehicle. When the vinyl graphic is applied, it allows you to change the vehicle's appearance quickly and easily. If the need arises, this incredible applied vinyl can remove the wrap and return the car to its original condition.
Vehicle Wrap Explained
Bus and fleet wraps, including car wraps, are composed of three stages:
Design Stage
It entails taking precise measurements for the car and creating the designs to be placed on it.
Production Phase
In this phase, the graphic is then printed and laminated to keep the vinyl in good form. Abrasions and UV rays can cause graphics to fade over time.
Installation
This is the phase where we apply the vinyl to your car. In some cases, there may be a fourth phase: removing graphics if requested.
The Importance Of Owasso Custom Vehicle Wrap
It is a big investment to invest in a vehicle wrap. Owasso custom vehicle wraps will make it a point to keep you informed throughout the process, always keeping in contact with you to verify that you're satisfied with the finished product. Our entire team places the same importance on your happiness, from the customer service representatives who take your call to the designers and installers. Owasso custom vehicle wraps are an excellent marketing tool for small businesses, as well as large corporations. Vehicle wraps offer one of the most cost-effective ways to advertise, whether you have a fleet of vehicles or just one car.
With our high-quality materials and skilled staff, we can develop a one-of-a-kind vehicle wrap that will undoubtedly get people talking. At our establishment, we pride ourselves on using only the best materials. Plus, every member of our team is experienced in every step of vehicle wraps–from design to installation. We get it that each business has unique needs. So whether you need a logo wrap or a full-vehicle wrap, we'll come up with a solution tailored just for you.